We were just 8 miles from home, stuck in a car that had a burnt out clutch.
It was winter in London, cold and raining outside as we sat in the dark talking about how we were not happy with our lives.
Our 2001 Fiat Seicento. The car that started it all    
That was the tipping point, when everything changed and we began our journey to where we are today. Currently living in a rural farming village in central Portugal with a little baby girl and an old English Cocker Spaniel dog that traveled all over Thailand with us in a rusty old 1972 Ford Escort.
Wait. What? How did babies and dogs and Thailand fit into all of this?
Let's rewind to the beginning of our story and round up how it all fits together to form the unconventional life we have created.
I fell in Love, It took me 5 years to make a move, We were 16 years old
Sacha and I were 11 years old when we first met in a queue for our first reception class at secondary school. Everybody was nervously working out their place in the world, forming alliances and setting first impressions. Sacha had shoulder length golden hair and seemed shy and gentle. In the years that followed I fell in love and finally worked up the courage to set aside my fear of rejection on the very last day of school. That's right, it took 5 years for me to make a move. We went on our first date to the cinema May 27th 2000 and became a couple when the movie had finished, we were 16 years old and sealed the deal with a kiss.
We had several relationship break ups, Filled with doubts, We were not happy
The beginning of adult life had begun to sink it's claws into us in the following 5 years, separate college classes, failed attempts at University degrees, family complications and the uncertainty of future career prospects caused several relationship break ups. When we came back together we agreed to always speak openly about our wants and desires. Sacha was training to be a nurse but found no happiness in the pathway to the vocation and was filled with doubts. I had failed to get the academic results required to become a games designer and was working as a navigator and truck drivers helper for food deliveries. We were not happy.
One long teary night after discussing all the things that were making us unhappy, I asked Sacha what she really wanted the most, she told me that she wanted to travel the world.
The culture shock was intense, and it changed the way we saw the world dramatically.
On May 6th 2005 at the age of 21 we left England to embark on a year long 'round the world' adventure. We didn't have much money and had to sell a lot of our belongings to make it happen, so we decided to begin our trip by backpacking through India and South East Asia. The culture shock was intense, and it changed the way we saw the world dramatically. We made our way east, fell in love with Thailand, saw the great wall of China, lived and worked in Sydney Australia for 6 months, drove the length of New Zealand's islands and ended our rotation of the planet in an Eco-resort in Fiji surrounded by frogs. It was one hell of an adventure, we knew life would never be the same again.
We skipped the nightclubs and used the money on petrol in the car
We were right, life never returned to what it was after that journey around the world. But one thing did return; the great depression we had before we left. And I don't use the word depression lightly, it was real and had deep effect on our relationship. This time however, there was no break up. We spoke openly and often and decided that local travel would help ease the pain. Trips across England and Europe became our weekend activity, we had low paying jobs so we skipped the nightclubs and alcohol fueled events and used the money we saved on petrol in the car. The places we visited became the subjects of Sacha's photography hobby and we returned from each trip with treasured images, it felt good.
It was time to get a dog, move abroad, change our jobs and make movies about it
One trip in particular stands prominently in memory, the one that ended only 8 miles from home. We had driven to the the northern most point of the United Kingdom and then spent 7 cozy nights in a warm cottage on the Isle of Skye. As we returned to London the clutch on our 2001 Fiat Seicento had worn down to nothing and we rolled to a halt just 8 miles from my parents house. We talked a lot that night as we waited for a local car recovery to rescue us, and decided it was time to get a dog, move abroad, change our jobs and make movies about it.
Black Cocker Spaniel: FREE, it said. Intrigued, we drove 2 hours to look at this mysterious dog
Eden the English Cocker Spaniel entered our lives very soon after that.  At this point it's also important to note that Sacha's photography hobby was growing into a second income. She was working from home photographing food for our stock photography library (& as it happens, looking up dogs on the internet). An advert with no picture popped up one day. Black Cocker Spaniel: FREE, it said. Intrigued we drove 2 hours to a rural farm near Dover to look at this mysterious dog who needed a new home. This is where we first laid eyes on Jess.  Soon to be known as Eden.  The current owners told us Jess was supposed to be working out in the fields collecting the pheasants as they were shot down.  This was a problem for Jess.  Firstly, she hated gunfire & would run in the opposite direction. Secondly, she was not a team player and hated being a pack dog. She had decided that working farm life wasn't for her. For the second time in my life, I was in love again.  Her cuteness exceeded my expectations for a dog with no advertised picture, and that day she became our first daughter. She taught us about responsibilities we'd never encountered before, she was a landmark, a defining moment in the way we thought about life.
I wanted Sacha to be my wife
At this point in our story, it's 2010. 10 years had passed since that day outside the cinema when I asked Sacha to be my girlfriend. We had traveled the world together, lived together, started a flourishing wedding photography business and now co-owned the perfect doggy. I was more sure than ever that I wanted Sacha to be my wife. I proposed in the south of France as we sat alone overlooking 'Le Gorge De Verdon', a grand canyon carved out by the strikingly blue Verdon river. It was perfect.
We stood upon the sands of the Agafay Desert in Morocco at sunset
Our wedding was even better. We stood upon the sands of the Agafay Desert in Morocco at sunset. Sacha wore a shimmering sky blue dress and I was in steel grey. Our family and friends all looking on as we read our promises to each other. The experience was mind-blowing and surreal. So surreal and special that when it was all over and we walked back into our cold flat in England, it was soul crushing. We knew we had to find a way to extend that feeling of euphoria.
We started a photography business, but something was still missing
We thought back to that Scottish trip, that car break down just 8 miles from home, and the things that we said we wanted out of life. Since that time we had started a photography business, adopted an amazing dog, got engaged and then married, but something was still missing. The thrill, excitement and even the discomfort of travel was calling us.
We said to each other, let's just go, and bundled Eden into a sky kennel bound for South East Asia
We sat down one evening and discussed our time travelling in Thailand, we both had a strong memory of this one tiny little town called Pai. There was a little wooden cafe there called 'All About Coffee'. From memory we recalled an advert posted on the street lamp outside this cafe. It was for a house rental that cost less than $300 USD per month. Our stock photography income was a little more than that, and we said to each other, let's just go. So that is what we did. Sold our belongings again, sold our Fiat car that started it all and bundled Eden into a sky kennel bound for South East Asia.
We were sitting in a house made of wood in the centre of Chiang Mai North Thailand
Soon after we arrived in Thailand we started this blog and a YouTube channel to document our journey, it was meant to be a cinematic diary of sorts, but it was in need of a name. We were sitting in a house made of wood in the centre of Chiang Mai North Thailand. It was hotter than we could handle and Eden was sleeping soundly on a bamboo chair as we brainstormed what to call our new diary of adventures. We didn't know if we would stay in Thailand forever so we had to think of something that covered 'The Story' and not the location or destination. It was Sacha who said it should be called '8 Miles From Home', a name that she had been reserving for a time in our lives when we had done enough interesting things to warrant written or recorded documentation: Like a Book Title perhaps. I loved it immediately, it signified the tipping point in our lives when change began, it was the perfect name.
We bought a rusty old 1972 Mk1 Ford Escort and road tripped all over the country
The next 5 years in Thailand were an absolute whirlwind of experiences. We bought a rusty old 1972 Mk1 Ford Escort and road tripped all over the country. We retraced our old journeys, we found 'All About Coffee' Pai, we brought our family and friends to our home and took them on adventures they never considered possible.
We moved house 5 times and explored the real Thailand slowly. Revisiting locations until they embedded within us the feelings of a home. We found peace on a rural banana farm in the far north, we battled the chaos of Bangkok and we ended our years in Thailand near the beaches of Hua Hin.
Our journey across the country was an adventure, but the next huge chapter of our story was conceived as our time in Asia drew to a close: Having our first child.
Our baby began her life in Thailand, she crossed borders with us into Burma and she climbed with us to the tops of mountains.
We sold our old Road Warrior to a good friend who promised to give it new life. We thanked Thailand for all that the country had done for us, and we left Bangkok with smiles on our faces and elation in our hearts. We entered as three, Man, Woman & Dog, and left as a new family. Excited to bring a brand new human into a brand new world. We were moving to Portugal.
After a short stay in the UK we were ready to set off on the next leg of our adventure. We had a new machine, a Mazda 3 Sport called Bluey Carro. We got Eden a brand new passport, ferry tickets were booked and we said goodbye to everybody once again.
Sacha was 8 months pregnant at the time and everybody thought we were mad. Moving to a country we didn't know, with a language that we didn't speak, to be first time parents in an alien world with no support network behind us. But we needed a place to call home, a new land to explore and fresh challenges to face. So we drove 1200 miles to a little town in  central Portugal called Mortágua and settled into our new life, preparing for the arrival of our baby girl.
At the time of writing almost 2 years has passed. The path through pregnancy to parenthood has been littered with massive hurdles. We jumped them all. It turns out that we weren't mad to do this at all, in fact looking back, although it seems very daunting, we feel like we would always make the same choice that leads us to where we are today. A happy family living in the sunshine of southern Europe, learning how to be a mum and dad to a beautiful little girl. Taking care of our old doggy and original daughter Eden who now feels that she has seen more than enough of the world. Teaching a toddler how to speak our words and walk in our footsteps, until one day she will carve out her own path, and maybe lead us down it into a future world that we cannot even yet comprehend.
This is our Story.
Want To Get Up To Date With Our Vlogs? WATCH HERE
Summary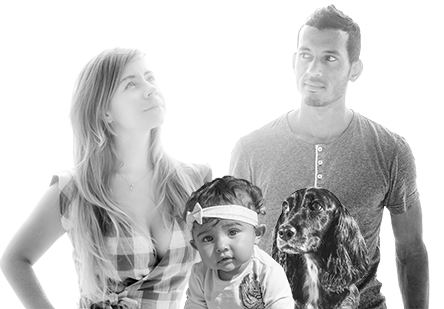 Name
Nickname
Website
Job Title